Ludhiana,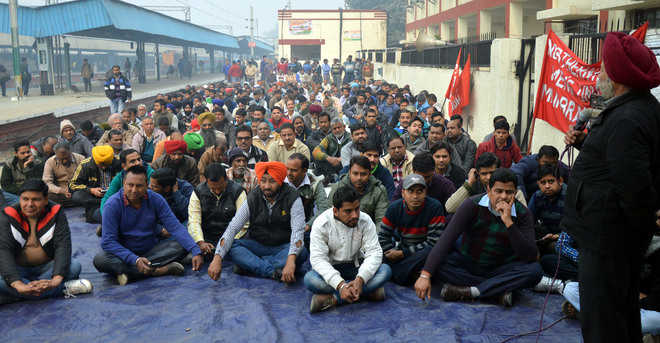 The railway employees vent their ire against the recommendations of the 7th Pay Commission through a protest demonstration at the railway station here today in response to a call given by the Northern Railway Mens' Union.
Addressing the protesting railway employees, NRMU divisional secretary Daljit Singh said the recommendation made by the Pay Commission for a minimum salary
of Rs 18,000 was ridiculous in the face of economic adviser to the government of India assessing the monthly salary at Rs 26,000 based on basic needs. At the same time, the Commission had shown undue favour to bureaucrats by recommending a salary of Rs 2.5 lakh, he said.
Giving a call to the cadres to be prepared for a decisive struggle to achieve pending demands, Daljit Singh sounded a note of caution to the Union government to take an immediate call on fixing minimum the monthly salary at Rs 26,000, scrapping new pension scheme, end privatisation of railways and review of 100 per cent FDI in the railway sector.
While asking the employees to gear up for the proposed nationwide strike on March 7, he said the NRMU had decided to take a strike ballot to decide on two-day strike on February 20 and 21.
Paramjit Singh, divisional secretary, All-India Loco Running Staff Association assured full cooperation to the action programme announced by the NRMU leader
SOURCE -
tribuneindia